The covered alley of Roh-Koh-Koët
At the locality Moustoir, the Roh-Koh-Koët dolmen located in undergrowth is at the end of a ruined path. Facing north-west, it is closed with three rocks and has a 6 meters long table.
GPS location : N47.81637 W2.74399
Goh Menhir or Goeh Menhir
Goe Menhir is reachable on foot from the previous megalith. It is the highest of the township with 6 meters high. Its name reminds a damp place.
GPS location : N47.81195 W2.74617
Colého menhir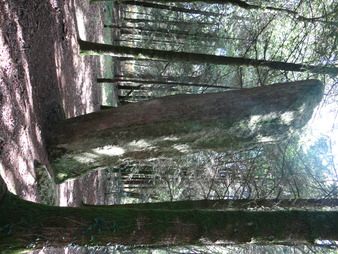 The Cohélo menhir, a little hard to find because not marked, deserved the effort for its discovery… Its almost 6 meters high give it a great look. It has cups on its south face.
GPS location : N47.79928 W2.75042
Kerdramel or Kerarmel menhir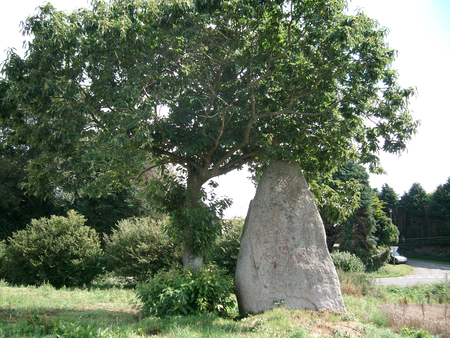 This amazing triangular menhir is nearly 5 meters high. It is visible at the edge of the field, under a tree.
GPS location : N47.82169 W2.73089
The Christianised headstone in Moustoir
Headstone engraved with a patent cross in front of the Moustoir chapel. It may come from a menhir.
GPS location : N47.81578 W2.73333