A construction that has been redesigned many times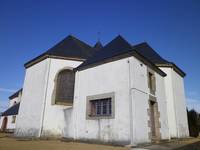 Under the name of ste Julitte, Juliette or Julienne, the original church dates from the 16th century, it was restored in the 18th century. To the north of the nave, the bell tower with a slate spire is supported by a massive square tower, it seems to date from the end of the 16th century. The choir has cut sections. No unity of style on the outside, but push the door: the inside holds surprises!
Very decorated choir...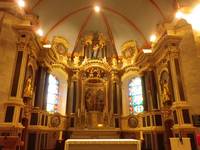 In the choir, a double satue represents the patron saint of the church, the martyr Saint Juliet, who protects her child. Here is their legend... In the year 304, the emperor Diocletian declared a terrible persecution against the Christians; Juliet, a noble lady residing in Iconium, in Asia Minor (now Turkey) raised her young son Cyr in the Christian faith. She was arrested, persecuted and had her head cut off. Cyr, then aged 3 or 5, opinions differed..., shouted "I'm a Christian too, I'm a Christian", the governor wanted to catch him to calm him down, but the child defended himself vigorously, so that the governor ended up throwing him on the steps (or on the wall), killing the child on the spot. He thus became the youngest Christian martyr.
...and carved altarpieces.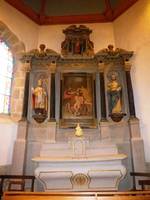 This charged decoration dates from the 18th century, as do the two altarpieces. The central part of the carved wooden altarpiece represents the crowning of thorns, and the side niches have St. Blaise and St. Peter as occupants. They are dominated by Saint Nicholas.
Other statues are to be seen, in particular a Virgin and Child.
The stained glass windows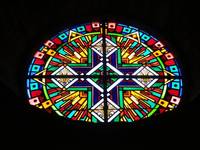 The stained glass windows breathe the decorative arts.
Don't pass by the baptistery either, which is quite original.
Don't leave without stopping at the fountain...
Listed Historic Monument (for the enclosure), it dates from the 16th century.
At the cemetery, see also the listed cross from the 17th century.
To get the key of the church when it is locked,
call Mrs. Pocard at 02 97 60 98 01.
Photos © Fr. Lepennetier