A bucolic and peaceful place
Probably dating from the 15th century, the chapel of St Michel welcomes you in the charming hamlet of Le Mont in Guéhenno. From its 147 meters high, it offers a beautiful view of the countryside, where on a clear day, in the distance, you can guess Brocéliande.
If this hamlet is a peaceful place where it is good to relax for a picnic, it was very lively at its famous fair of St Michel, the last Sunday in September. It has also known the torments of combat, such as those between Chouans and Republicans, or the bombings of the last world war.
St Michael's fight against the dragon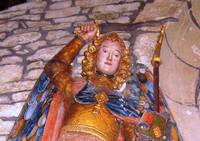 On the rampant of a gable carved with hooks stands a dragon, but above the southern doorway a tympanum with the figure of Saint Michael. Inside, in the choir of the chapel, the wooden statue of the archangel Saint Michael brandishes his flaming sword and defeats the dragon. Can you find the seven little dragon heads on the dragon symbolizing the seven deadly sins?
At the beginning of the 20th century, the Mont still had two chapels, side by side. The one dedicated to Saint Mark, in ruins, was dismantled and rebuilt in Callac (one of the three parishes of Plumelec). This is why there is a statue of Saint Mark in the choir of the chapel dedicated to Saint Michael, in the hollow of a Renaissance-looking niche.
Many hosts...
Saint Cloud, Saint Eutrophe are also honoured in this so welcoming chapel...also found refuge there the pulpit of the church, miraculously saved by the association. Dismantled, it was kept in the presbytery and almost ended up burned.
Two curious paintings decorate the walls, made by local artists...Cati, our greeter will be pleased to tell you more...
---
Don't leave without taking a look at the mill, which has regained its wings thanks to the forgiveness celebrated each year, or at the medieval cross planted on the edge of the path leading to the mountain.