Many times altered over the centuries...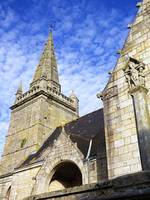 The nave dates from the 15th century, the crossing and crossbars from the 16th century, the choir and sacristy completed in 1576, the altarpiece in 1730; the second half of the 18th century saw the construction of the font and the reconstruction of the porch of the 16th century, in 1838 the sacristy ... The neo-classical bell-tower-porch which rises on four floors delimited by horizontal bands was built from 1774 to 1777; at the very top is the polygonal drum of the bell chamber.
St Barbara's Church has been listed Historic Monument since 1925.
Photo © Fr. Lepennetier
Dedicated to Saint Barbara, the patron saint of quarrymen.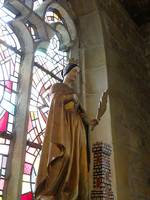 St. Barbara is regarded as the patron saint of the church and the parish. Her statue took its place at the top of the tabernacle, in the middle of the day, as if to emphasize the symbol of protection. Saint Barbara is, among others, the patron saint of quarrymen, and the commune of Moustoir-Ac is full of stones.
She is usually represented with one or more of the following attributes: a tower with three windows on her hand or behind her, a lightning bolt (the one that struck her father), a book, a martyr's crown, the sword that was used to cut off her head, a ciborium (sacred vase) and hosts.
Catholics pray to Saint Barbara for protection from lightning, fire and sudden death.
She is also the patron saint of sappers, firefighters, architects, geologists, miners, artillerymen, metallurgists and other fire-related corporations. Photo © F. Baslé
A remarkable altarpiece...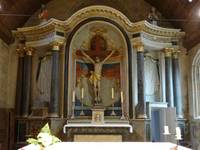 The limestone and black marble altarpiece of the high altar dates from 1730: the central niche is occupied by a crucifix. This high altar, whose gilding and polychromy are noteworthy, seems to be dedicated to the Holy Trinity, the side altars being dedicated to the Rosary and Saint Barbara.
Don't forget to raise your head to discover the crocodile-headed frame and the carved sandpits. The buttresses, whose pinnacles have not been completed, are decorated with vine leaves.
Photo © F. Baslé
...as well as a surprising wooden grill...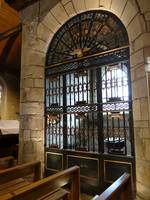 To the right of the nave is this remarkable wooden gate that closes the baptistery. Dating from the 18th century, it is very curious as it imitates ironwork; it is to be compared with another wooden gate from the same period, in the church of St Gorgon de Evellys / Moustoir-Remungol.
Photo © Fr. Lepennetier
A fountain in the middle of the fields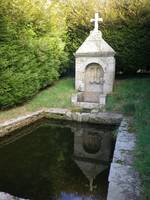 The pretty fountain (1706), which is attached to the church of Saint Barbara, is located in the open field outside the village (to Colpo).
Photo © Fr. Lepennetier