A simple edifice, witness to popular fervour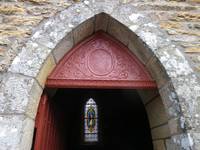 The chapel of Kerhéro is an example of these small rural religious buildings without a purely defined style, but reflecting the faith and dynamism of the inhabitants of the region.
Entirely rebuilt in 1896, it replaces a smaller and very old chapel. It was first rebuilt in 1943. At present, the exterior joints, the stained glass windows and the roof have been completely restored and give it a beautiful appearance.
Our Lady of Seven Sorrows, Intron Vari er Seih Glahar, is invoked to receive strength and courage to face the difficulties of life. It is also associated with cures for blindness.
A Saint Georges listed Historic Monument...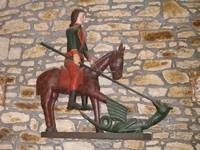 Inside the chapel is a superb polychrome group carved and classified, it is about Saint George slaying the dragon. Remarkable wooden statue dating from the beginning of the 19th century, it is carried during the processions.
Also to be seen here is Saint Joseph, Saint Cornély, among others the patron saint of horned animals, and there is also a statue of Saint Barbe, the patron saint of the parish of Moustoir-Ac, who is present in the church of the same name in the village.
...and a very lively pardon that welcomes a bishop on horseback!
Kerhéro's forgiveness is celebrated every year on the third Sunday of September. It is also called the forgiveness of the horses: dozens of horsemen take part in the procession that descends from the chapel to the Bodeno fountain, and bring their horses down into the basin below the fountain.
In 2013, Bishop Raymond Centène, Bishop of the Diocese of Vannes, made this journey on horseback, before blessing the riders and their mounts, water, fire and banners.
Photos © Fr. Lepennetier
---