A bedside table in the shape of an absidiole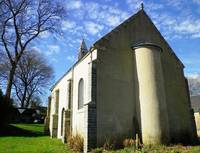 Let's admit it, we didn't know what an absidiole was before visiting this chapel... it's this round turret inlaid in the bedside wall, visible from the back in the photo opposite. Inside, it makes a niche lit by daylight... in which the statue of Saint Joseph, standing on clouds, has been placed.
Two patron saints for one chapel...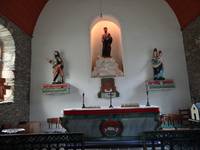 She hesitated for a long time between Saint Andrew and Saint Genin... in doubt, both are honoured! At Saint Guénin, the favours of a time favourable to agricultural work were asked for, so in times of drought one would go down in procession to dip the foot of the cross in the fountain. At Saint Andrew's, children suffering from whooping cough were brought, but it was necessary not to forget to offer a white rooster, and to make the child drink the water from the fountain...
Many statues...
In addition to St. Joseph, we find St. Guénin holding his bishop's crosier in his hand, and St. André holding his cross. Facing him is Our Lady of Flowers, holding her child in her arms. Then Saint Apolline, with a pincers in her hand because she was martyred by having her teeth pulled out, and is therefore the patron saint of dentists...then a Saint Nicodaime in a white robe and turbaned head, and another statue representing either Saint Brigitte or Saint Barbara as it is written, perhaps by mistake.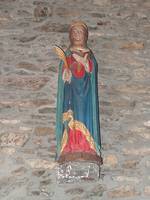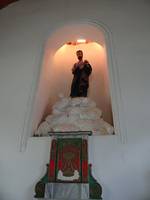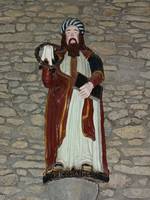 ...and two stained-glass windows.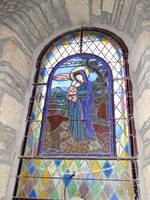 Built in the middle of the 19th century to replace a previous ruined building, the chapel has been repaired many times. At the end of the 20th century, two stained glass windows were added, one depicting Saint Andrew, the other Our Lady of the Flowers.
Also note the wooden balustrade closing the choir, whose motifs are to be compared with the two astonishing grills of the baptistry of the church of Saint Barbe de Moustoir-Ac or Saint Gorgon in Moustoir-Remungol.
The pardon of the chapel takes place on the Sunday following August 15th.
A pretty fountain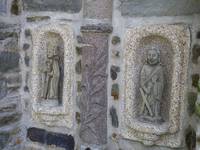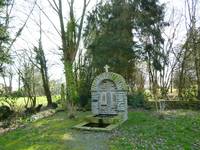 There are statues of the two patron saints, St. Genin with his bishop's crosier, and St. Andrew holding in his hand the X-shaped cross on which he was crucified.
This fountain, once a simple spring marked by two stones and difficult to access, was built in 2001 as close as possible to the chapel, but the water that flows in it is indeed that of the spring, brought there by more than 600 metres of pipes...
Photos © Fr. Lepennetier