Pilgrimage place since the Middle Ages
Ste Anne's chapel is one of the most remarkable chapels in the country and can be visited in the village of the same name in the commune of Buléon. Since the Middle Ages it has been a place of pilgrimage dedicated to Ste Anne, St Eloi and St Cornély. Forgiveness is celebrated at the end of September.
An exceptional wealth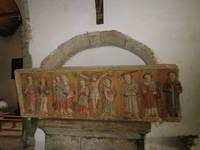 Listed Historic Monument, it has very elaborate openings and an interesting fantastic bestiary.
Different eras cohabit but the whole is harmonious.
Two altarpieces: one, called the Crucifixion, is a superb example of 15th century Breton sculpture. It is made of polychrome granite.
The other dates from 1738. Made of white stone and black marble, it is dedicated to the saints of the chapel and has been recently restored.
Sandpits to be discovered with curiosity...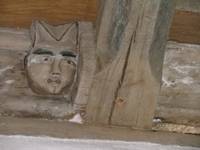 The 15th century nave is the oldest part of the building. The sandpits are richly decorated with sometimes very surprising characters...
The pretty outside fountain is listed Historic Monument.
The chapel is open several days a week in summer. To find out more, call 02 97 60 49 06
Outside the summer, to visit the chapel, the key is needed at A-M. Le Breton at 02 97 75 40 59.
Photos © Fr. Lepennetier
---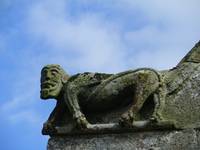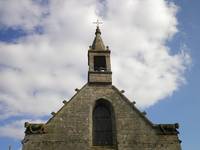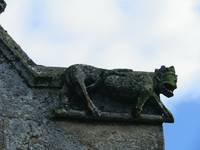 ---