The only chapel of the 16th century in Locminé is in the flamboyant style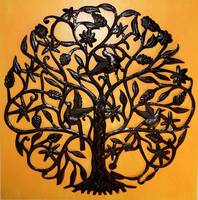 Next to the church is the chapel Notre Dame du Plasker, rebuilt in the 16th century to relieve the parish church which had become too small. It was also used under the old regime for meetings of the corporations (butchers, tanners and carpenters). During the Revolution, the chapel was transformed into a material depot and was used for some time as a decadaire temple. Throughout the 19th century, and even beyond, the chapel became the meeting place of the Marian Congregation of Young Girls.
At the beginning of the 20th century, the municipality planned to raze the chapel to the ground, but it ran up against the Fine Arts Administration, which repaired it and obtained, in 1930, the inscription on the Supplementary Inventory of Historic Monuments.
Photo © M.Talmon
A beautiful statuary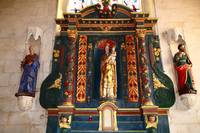 The inside is interesting. There is a polychrome altarpiece from the 17th century and a stone altar from the same period. The Virgin with the Crowned Child (16th century) is surrounded by flowers, St. Joseph and St. Mark, recognizable by his lion. The tabernacle dates from the 19th century. The furniture is harmonious.
In the transept, the statue of Saint Colomban reminds us that the worship of the parish is dedicated to him. But the statue came from the former chapel of Saint Colomban, which was destroyed.
On the back wall, there are several statues of Saint Helena, Saint Joseph, Saint Crépin, the patron saint of shoemakers and Saint Roch with his dog.
Saint Colomban
Colomban de Luxeuil, the most famous of the Colomban Saints (°543 in Navan - † 21 November 615 in Bobbio near Piacenza, Italy) is an Irish monk who evangelized the rural populations of Gaul, Germany, Helvetia, and Italy. His feast day is 23 November. Colomban, after leaving Ireland, landed in Brittany, at Saint-Coulomb near Saint-Malo, in the 580s. Until 615, he evangelized France, Germany, Switzerland, Austria and Italy and created a monastery in Luxeuil. A European network of exchanges, bringing together hamlets and towns, was woven in the footsteps of St Colomban.
He never passed through Locminé, but the monks, who came from Luxeuil to create the convent, established his rule and his cult there. Saint Colomban is celebrated with a pardon at the end of June and his relics have been kept in the church since the 15th century.
Photo © G.Falconetti

The White Fountain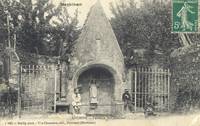 The fountain St Colomban (17th), listed Historic Monument, also called the white fountain, was once the object of important pilgrimages. Its waters were reputed to cure madness and nervous diseases.
---
Article made from the book "Churches and chapels of the country of Locminé"- Joseph DANIGO -Books of UMIVEM