The Morbihan center by bike
Les Vélo Promenades® (Bicycle rides)
Les Vélo Promenades®, a registered trademark of the French Cycling Federation, are loops that allow you to discover the local heritage and take advantage of local services. They take the communal or departmental roads but avoid roads with too much traffic. In the centre of Morbihan, 7 Vélo Promenades® allow you to criss-cross the area by bike (VTC recommended) :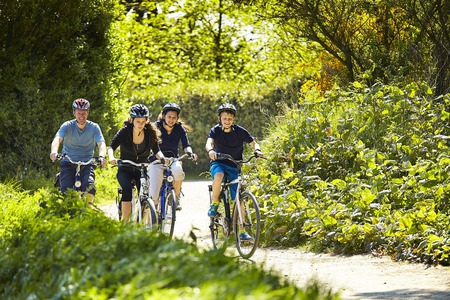 The canal towpath

To make nice bike rides in Morbihan center, you can take the towpath along the Blavet river ! The whole family will be able to pedal safe in the middle of nature.
From Saint-Nicolas-des-Eaux in Pluméliau-Bieuzy to Pont-Augan in Baud, 18 km of towpath are easily accessible on the cycle route voie verte n°8 (Saint-Brieuc/Lorient).
On your route, you will probably come across boaters navigating on the Blavet River, fishermen or hikers enjoyingthe peace and quiet of the places and natural landscapes !
Find informations on the tourist map available online ou at the Tourist Office and Tourist Information Offices.
Other itineraries are possible; do not hesitate to ask for advice !
Map of the bike route between Saint-Nicolas-des-Eaux and Pont-Augan.