Rebuilt in the 19th century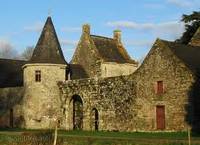 Destroyed during the French Revolution, it is rebuilt in the 19th century, partly on the old foundations. A square tower and a crenelated pavilion seemed to have been added around 1900.
The lordship of La Sauldraye gave its name to a family that passed on this land to the Callac family. The castle has been rebuilt at the beginning of the 16th century by Jean de Callac and his wife Jacquette de Kermeno. The Poterie family settled in the castle in 1644. It was in ruin in around 1850: entrance door with machicolations on baskets and polygonal turret on the left, 16th century main building, square window, three badges with the arms of Callac and La Sauldraye, Sérent and Brignac. The family Le Blanc has owned La Sauldraye since 1870. It remains a door and a molded round-arched postern, surmounted by machicolations and flanked by a polygonal turret with a murderer for a snake at the base. The main building is decorated with characters, animals and badges.
These beautiful remains are visible from the outside because the estate is not open to visitors.
---