History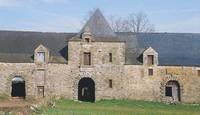 The castle or manor of Cadoudal was built in the 17th century. Olivier de Cadoudal (Duke Jean III counsellor) owned the lordship, which was entitled to high justice and existed since 1330. The families Trévegat, Sévigné, Guémadeuc (around 1584), marquis de Marbeuf (in 1780), La Chapelle, du Bot, Bligny, Collin, de La Bellière, Join-Lambert then own it successively. The castle lost its chapel from the 15th century during a fire in the 19th century. The outbuildings dated 1699, a gate and a beautiful well are the only remains.
Nowadays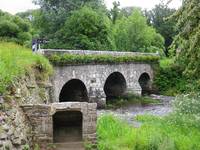 Listed Historic Monuments for its facade, gate and surrounding wall since the 29 march 1935, the manor is now a private property not open to visits. However, a walking trail goes around it, enabling to see the gate and many architecture details, including beautifully carved skylights.
The manor is located near the locality Cadoudal and its nice flowery bridge over the Claie, at the bottom of the famous coast known by all cyclists in France with its 7% slope...
Photo © Fr. Lepennetier
---