History and discovery of the castle
The origins of Callac's castle are dated from the 12th century, it is told about Olivier de Callac who used to live in a manor we don't exactly know the place. There is no sign of it because it has been burnt and destroyed.
It was rebuilt in the 14th and 15th centuries, extended in the 16th century, then refitted in the 17th century to make it comfortable, and looking like the present castle with its four pavilions.
The Callac, then the Tiercent and the Le Forestier owned it by right of inheritance. In 1645, Louis XIV sets it in barony up on behalf for Mr Rogier, council member of the Breton Parliament. In 1670, it belongs to Amador du Guémadeuc, the governor of Ploërmel. Then Julie-Éléonor de Marboeuf, earl Marboeuf's wife, Governor of Corse, owns it by marriage.
The Chouans hid in it in 1795, and the French paratroopers were dropped there in a rallying point during the Second World War.
Photo © Fr. Lepennetier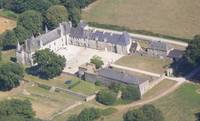 The castle is accessible throughout the year.
The inside is still renovated since many years.
The outsides are easily accessible and visible by the road.
Due to the restoration work and some building bad conditions, it is forbidden to go inside the courtyard and close to the ruined building. The suggested circuit goes around the building and enable to see the four sides of the castle and the courtyard.
Photo © Château de Callac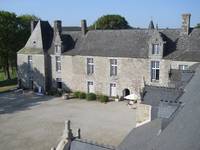 Callac's castle is open for the European Heritage Days.
It also welcomes the European Days for the Art professions.
Photo © Château de Callac
---
Opening and rates
Callac's castle is accessible all year round.
Admission is free.
contact@chateaudecallac.fr
---