Dedicated to Ste Noyale and Our Lady of Flowers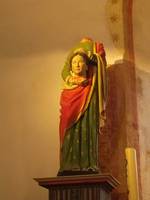 Ste Noyale (Ste Nolwenn in Breton) is one of those 6th century martyrs whose life was not very happy... Daughter of a king of Cambria (Wales) then Celtic, her father wanted to force her to marry; she wanted to consecrate herself to God: so she fled to Brittany and arrived in the village of Bézo. Weary, Nizan, a local tyrant lord, decides to marry her... she refuses, he slices her neck... is that why from now on she is invoked against headaches?
The chapel would have been built on the spot where she was beheaded. It is also said that she then took her head in her hands to look for a burial place, walking to Noyal-Pontivy, where another chapel is dedicated to her...
A simple building but rich in statues
The date 1593 can be read on a beam. There are still some remains of old stained glass windows, a 13th century statue of Our Lady of Flowers in polychrome wood, and several other statues including a remarkable St George fighting the dragon and protecting St Noyale, in polychrome and gilded wood, dated 1578.
Also not to be missed is a 15th century granite statue of St James, an admirable composition of the Virgin and six cherubs in polychrome wood, St Joseph in polychrome stone and St Cornely in polychrome wood, all three from the 16th century. These statues are registered in the inventory of Historic Monuments and still raise the interest of this beautiful chapel.
Maintained by a very active association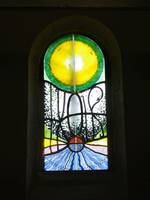 The association that takes care of the maintenance and preservation of the chapel is very active and has installed a new stained glass window that was inaugurated in 2012. A pardon is held there every year on the first Sunday in July.
To visit it, the key is to be asked at 02 97 66 89 89, at the home of Mr Guy-Alain Le Corre.
A beautiful fountain is dedicated to him...
It's a bit of a walk, but it's worth the detour... (it is moreover located on the path of the Circuit des Landes of the commune).
According to the legend, Nolwenn, who walked with his head in his hands, exhausted by his journey, sat there, and a few drops of blood spurted out: this gave birth to the fountain... All granite, surrounded by a low stone wall that forms a basin, it bears the date 1846, probably the date of a restoration. It is decorated with sculpted masks and a winged head.
---