Swimming pool and wellness area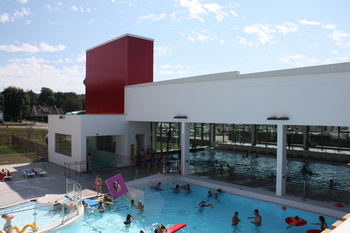 Recrreational and sport aquatic center with sunroof, Leisure place and 80 meters waterslide (the longest of Morbihan).
You will find :
a 250m² sport pool (4 lanes)
a 160m² recreational pool with a Bubble seat, massaging sprays and a swan neck.
a relaxation space with a spa, 2 saunas, a hammam and a resting place with deckcairs
a little 65m² pool with a 80 meters waterslide
a 35m² paddling pool with water games for children
a solarium opened on a mineral and vegetable beach (depending on the weather)
The site is available to people with limited mobility. Swimming, aquaerobics, baby swimmer, aqua-senior and aquabiking lessons are proposed.
Practical informations

Open all year
Schedules vary according to days and holiday periods.
For more informations and rates, call or visite the website.
Aqua'lud
Rue de la Bouillerie
56500 Locminé
Phone : 02 97 69 21 60
aqualud@cmc.bzh
www.centremorbihancommunaute.bzh