An outstanding calvary
Between Vannes and Josselin, Guehenno's calvary is the most beautiful and the highest in Morbihan. It is far from where the greatest calvaries of Cornwall and Leon's dioceses have been built. It is the only one listed « Brittany's Monumental Calvary » in our department.
An eventful history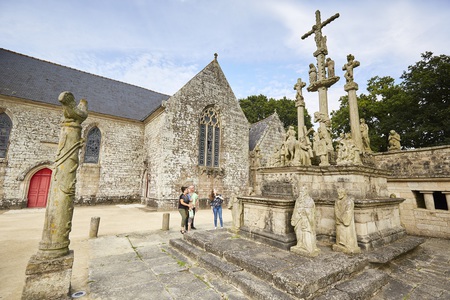 The calvary is built by some Guillouic in 1550, during Brittany's Golden Age, under Henri II's reign. A prosperous area linked to the development of the linen, hemp, potatoes and black wheat's culture… and no doubt in Guehenno to the granite quarries.
One evening in December 1794, in the midst of the Terror, the calvary and its enclosure were looted and broken by soldiers on their way to Josselin. The inhabitants hid the pieces in the ossuary, attics, fields and sunken paths.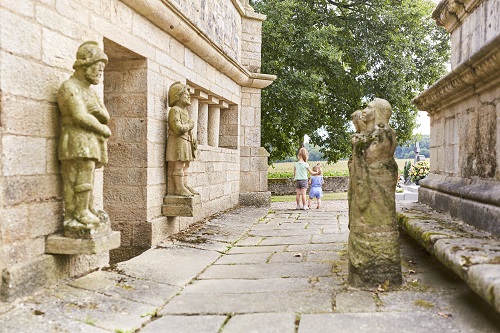 The arrival in 1853 of Father Jacquot in the parish sounds the renewal of the great Calvary. With the help of his vicar, he undertook to raise the Calvary and sculpted some of the statues himself in order to create a harmonious whole. Carried by an unlimited inspiration, he decided to add new elements, statues and bas-reliefs. In 1863, he added an ossuary.
The Calvary is made of granite ashlars, in a beige tone with fine grain, extracted from the quarries of Guéhenno. The quality of the granite allows for very precise stone work and offers astonishing possibilities for adding and removing. The calvary was restored again in 2002, using the techniques meticulously described by Abbé Jacquot. The calvary is part of the association of the 7 monumental calvaries.
Highlighting
"When the calvaries light up... ». The great calvary was regained three evenings during its original colours through a show initiated by the Association of the 7 monumental calvaries of Brittany and the company Spectaculaires.
Discover below some pictures of the show ©Philippe GAUTHIER