Leisure summer pool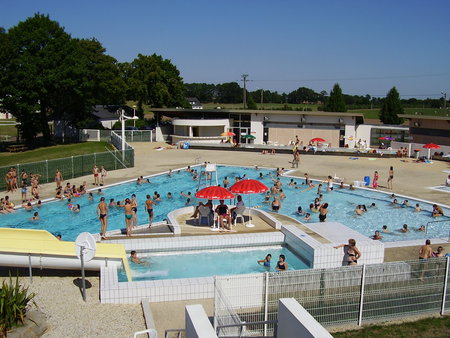 At the heart of Plumelec, the leisure area la Madeleine welcomes old and young during summer.
The 25 meters swimming pool has a recreational open-air pool with a waterslide and a paddling pool.
You can have a snack on the sunny terrace at the bar
Opening and rates
Open daily from June 30 to September 1
Monday to Saturday 11am-12.30pm and 2.30pm-7pm. Sunday :10h-13h.
Rates
Adult 4€, card of 10 entries 34€.
Child - 15 years old : 3€, book of 10 entries 23€.
From the age of 8, children can come alone.
Under 5 years old: free (accompanying paying adult swimmer obligatory).
Adult-child in the morning and on Sundays : 2,50€.
Visitor : 1€.
One swimming lesson: 9€, 10 lessons 84€.
Aquagym : 5,50€.
Leisure summer pool La Madeleine
Route de Josselin
56420 Plumelec
Phone : 02 97 42 32 77