Present at every crossroads... or almost!
A calvary is a monument representing the crucifixion on Golgotha (Golgotha translated in Latin by calverium). Each monument representing at least three characters can be named a calvary. In Guéhenno, the monumental 16th century calvary is one of the 7 Monumental Brittany's Calvaries, the only one in Morbihan!
The cross carries a Christ and is a monolith monument. There is often a virgin with a child, a pieta or other characters on the back.
The cross is often placed at a crossroad. They have been erected since the evangelism until the beginning of the 50's. They can be on private initiatives (vows, commemoration of a missing person) or collective (memory of a significant event, or an act initiated by the parish: place to stop during a procession for example or crop protection).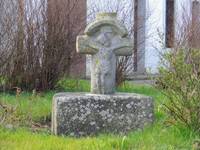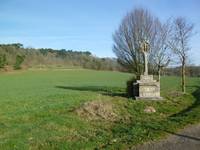 A website to list Brittany's crosses and calvaries
"The Brittany's Crosses and Calvaries association was created to introduce this rich and extraordinary heritage, unique in the world. There must be more than 10.000 of them, but it is only a small part of what might have existed at one time," says Pierre Floc'h, the founder.
A website lists crosses and calvaries.
You have spotted a monument during your walk or know some close to you… you have additional information, photographs: Take part in the participatory census!