Gunestre dolmen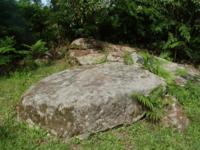 The Coët-er-Rui dolmen in Gunestre is quite damage ; however one of the three remaining slabs has engravings and cups. This dolmen can be discovered during a marked walking trail from the village. It is listed Historic Monument.
GPS location : N47.90107 W2.72515
The Quartz, in Tréharday or Tréhardet
The are two spellings on the cards Tréharday or Tréhardet. It is signposted (« Quartz ») from the locality called Talhouet.
Remarkable, this quartz would have the properties to drive the waves…